FreeForm F2000 & Concept 2 Model D Combo
List price: R 72,000.00
Our price: R 57,495.00
You save: R 14,505.00
Stock

In stock

Warranty

Lifetime on frame

FREE DELIVERY

Yes
Customer rating

DELIVERY

HAVE A QUESTION?

Finance

Finance Available

From R 1,588 Per Month
| | |
| --- | --- |
| | Need it installed? (+ R 950) |
This package includes the following products:
This product includes a free gift!
Become another one of our happy customers!
They were very patient in assistancing me with my order. I will definitely be ordering from you in the future and will recommend your service to others. I was very happy.
Emily Mabasa
Dec 2018
Freeform Endurance Runner Commercial Treadmill 6HP AC & Concept 2 Model D Commercial Rowing Machine
Stylish, comfortable, resilient and loaded with features, the FreeForm F2000 is a commercial treadmill designed for the modern fitness club. The massively powerful HiTorque Commercial Motor with 6 CHP provides efficient and smooth feeling with low impact comfort provided by the innate FreeFlex Precision Cushioning. Maintenance is easy with the built-in EzyCare Self Lubrication system giving you more time to train, focus on your clients and build your fitness company.

HiTorque 6.0 CHP Continuous HP Commercial Motor
HiTorque is an industry leader in build quality and durability. The F2000 is driven by an industry leading powerful 6 continuous horse power HiTorque Commercial Motor providing a 22km/hr speed comfortably so your treadmill will never have to struggle to keep up with you. With this much power, your F2000 commercial treadmill can handle an exceptionally high usage making it suitable for any commercial fitness centre.

Dual carbon brushes and AAA graded copper coils with high grade insulation and sealed bearings contained within oversized casing reduces the noise and vibration output from the motor so you can focus on your training rather than an excessively loud and irritating noise.
OneTouch Quick Speed Controls
Adjust speed from 0.5km/h to 22km/h easily with the console and hand grip buttons.
OneTouch Quick Incline Controls
Adjust the 18 levels of incline with ease by pressing the console or hand grip buttons.
VersaTred Oversize Running Tred Area
The F2000 provides a wide running surface so you can train in safety with no restriction to your running motion.
FreeFlex Precision Cushioning
Walking, jogging and running on the FreeForm F2000 Commercial Treadmill is comfortable and much lower impact than competitive treadmills or running outdoors. FreeFlex Precision Cushioning provides flexibility and cushioning innately oriented within the design of the F2000 for an organic feeling during your running motion.
OrthoTred Treadmill Belt
2-Ply Commercial OrthoTred Treadmill Belt formulated for superior performance.
BeltProtect Roller
The FreeForm F2000 Commercial Treadmill roller prolongs the life of the tread belt and reduces maintenance.
Self Diagnosis
The F2000 includes an indicator panel displaying any possible problems.
EzyCare Self-Lubrication System
In addition to the reduced maintenance offered by the BeltProtect roller, there is no need to service and lubricate your treadmill so frequently. The FreeForm F2000 Commercial Treadmill is self-lubricating. Typically the F2000 will self-lubricate every 20km with 2-3ml. A warning light will appear on the F2000 dashboard advising when oil level is low. The storage tank is easy to access and holds 400ml giving an estimated 3,000km of usage before requiring a top-up.
PreSet Programs
Preset Programs give variation to your training so you can rapidly reach your fitness goals. It's your very own Personal Trainer and Terrain variation built into the treadmill. The FreeForm F2000 Commercial Treadmill includes 28 various preset programs.
Safety Assist Protective Feature
Safety is paramount in any training scenario. The FreeForm F2000 Commercial Treadmill includes the Safety Assist protective feature to ensure the safety of all users. Emergency stop braking is applied when the safety key is disconnected. Removal of the safety key may also be implemented as a safety measure when the treadmill is not in use to avoid possible injuries to children.
MediaView Tablet Platform
Workout while watching your favourite media. Simply place your iPhone®, Android® or Tablet onto the MediaView holder coupled with the FreeMix Acoustics™ 5.0 Sound System and watch/listen to incredible sound through two high quality speakers.

*iPhone® is a trademark of Apple, Inc., registered in the U.S. and other countries. © 2014 Google Inc. All rights reserved. Android™ is a trademark of Google Inc.
FreeMix 5.0 Speaker Sound System
Enjoy your workout while listening to your favourite music. Simply plug your iPhone®, Android®, Tablet or MP3 player into the FreeMix Acoustics™ 5.0 Sound System and listen to incredible sound through two high quality speakers.

*iPhone® is a trademark of Apple, Inc., registered in the U.S. and other countries. © 2014 Google Inc. All rights reserved. Android™ is a trademark of Google Inc.
Dual-Grip ZoneTech Heart Rate Monitor
Reach your goals quickly by optimising your training with the Dual-Grip ZoneTech Heart Rate Monitor. Wireless and hands-free, you'll always be in your prime workout zone.
Commercial Lifetime Warranty
This FreeForm Commercial Treadmill is backed by a Commercial Lifetime Frame & Motor Warranty*. We stand by the quality of our equipment and want you to be confident with your purchase. Our warranty and servicing department is based within Australia and ready to assist your enquiry.
LIMITED TIME OFFER!
Order your FreeForm treadmill today and you'll have 30 days to try it in your home. If you are not happy with your purchase you may return it for a full refund*. In addition to this, for a limited time only we are giving away a copy of the Essential Collection Treadmill Guide with every purchase!

The Essential Treadmill Guide is yours to keep for free! This is only for a limited time so take advantage of this offer and boost your health & appearance by ordering your life changing treadmill today!

Concept 2 Rower Model D
The dependable performance of our Model D Indoor Rower has made it the best selling indoor rower in the world. Recognized by competitive rowers as the standard for indoor training, the Model D delivers an effective cardiovascular workout that will increase your fitness level and tone your physique. At a fraction of the cost of other home fitness equipment or a yearly gym membership, you can have the luxury of working out in your home whenever you choose…and get a great workout to boot.
We value practical design: our Model D is efficiently engineered and will last a lifetime. The Model D you buy is the same machine used by Olympic- and elite-level athletes to train for their sport—it'll take the abuse of heavy training day after day. If you're looking for a solid piece of exercise equipment at a great value, the Model D is the perfect choice.
The Model D is available in two colours: light grey and black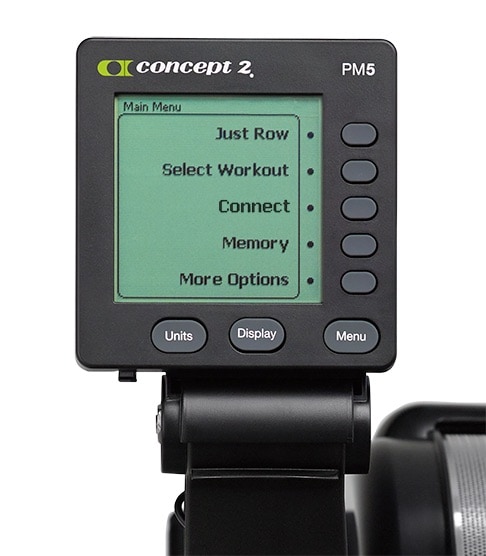 Performance Monitor
Every Model D includes our most advanced Performance Monitor, the PM5. The powerful PM5 provides repeatable, comparable data for every ride. The PM5 offers automatic "Just Row" mode, or allows you to set up a variety of workouts. The monitor gives you a wide range of data, including pace, watts, stroke rate (spm) and Calories and automatically stores this information in either its internal memory or an optional USB flash drive. The PM5 uses power from 2 D-cell batteries whenever it is not being powered by the flywheel.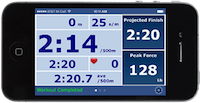 Connect to ErgData with your PM5
Get Connected
The PM5 monitor has both Bluetooth and ANT+ wireless connectivity, allowing it to connect to many heart rate belts, fitness devices and apps. The free Concept2 ErgData app helps you track your workouts and can sync with the Concept2 Online Logbook. Third party apps can provide additional features to help keep you motivated.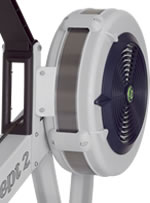 Flywheel and Damper
Our indoor rowers respond to your effort on every stroke, so you are in full control of your exertion and resistance at all times. The spiral damper allows you to easily adjust the airflow to the flywheel, so you can change the feel of the stroke to suit your preference. The flywheel design minimizes noise while maximizing a smooth feel.
Low Profile
With its 14" (35.6 cm) seat height, the Model D keeps a low profile.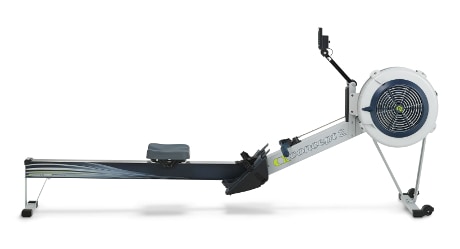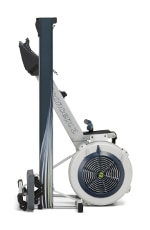 Storage and Mobility
The Model D features a quick-release (no tools required!) framelock mechanism, so you can easily separate the machine into two pieces for storage. Caster wheels on the front foot allow you to roll the fully-assembled machine into position.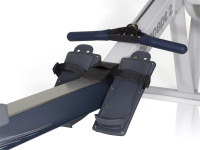 Adjustable Footrests and Ergonomic Handle
We use adjustable footrests on our indoor rowers for quick and easy sizing. (Footrests accommodate a wide range of shoe sizes.) Our comfortable, ergonomic handle features a 10 degree bend that allows you to row with a natural arm and hand position.
Nickel Plated Chain
Nickel plated chain: looks good and works hard. The nickel plating allows for longer periods between oiling, so, even if maintenance isn't your strong suit, the Model D will still feel silky smooth during your next workout.
Easy Assembly
The Model D requires the installation of the front legs using a total of eight screws. We include the necessary tool and clear, illustrated instructions. Takes just 20–30 minutes. View the Model D Assembly video.
Durable Construction That's Easy to Maintain
Our machines are well-known for their durability and construction. Tough and built to last, our machines withstand rigorous use in boat houses, training centers, living rooms, hotels, health clubs and military bases around the world. We make sure our machines are easy to care for so you can focus on using your investment, not maintaining it.
Included with your Purchase
We include the following items with your Model D PM5 purchase:
Model D User manual
Performance Monitor Quick Start Guide
Tools and illustrated assembly instructions