BH RDX 1.1 Spinning Bike
Stock

Warranty

Lifetime on frame

FREE DELIVERY

Yes
Customer rating

DELIVERY

HAVE A QUESTION?

Finance

Finance Available

From R 414 Per Month
Become another one of our happy customers!
Product is amazing. Delivery were awesome.
Aamer Attia
Mar 2018
BH RDX 1.1 Spinning Bike
Welcome to the future! The RDX 1.1 has a modern and striking design combined with a flywheel of 20Kg that allows high intensity training sessions at home.
BH RDX 1.1 is a spinning bike defined by its new and innovative design, the flywheel being at the rear, a feature developed with the aim of avoiding the direct fall of sweat onto the flywheel, preventing its early wear. It is made with the best materials on the market to achieve a reinforced design, easy to transport, light, but, above all, strong and durable.
The bike is really quiet due to its transmission with a Poly-V belt you will be able to feel that the pedals move smoothly even at the highest resistance level. The pedals have a non-slip base and an adjustable strap in resistant plastic to prevent the foot from slipping when training.
Both the saddle (prostatic) and the handlebar have an ergonomic design and both can be manually manipulated by the user to follow the correct and most comfortable position for him. Among the adjustment options you can find several levels both horizontally and vertically for the handlebar and the saddle.
On the other hand, BH RDX 1.1 seeks to perfect the experience to the maximum, making it as realistic as possible with its friction brake. In addition, under the handlebar we can find a small lever (easy to handle) to increase or decrease the intensity of the exercise without having to stop at any time.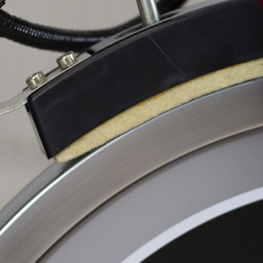 FRICTION BRAKE
Live a more realistic workout thanks to the friction brake system.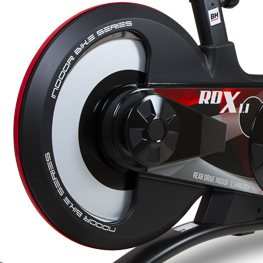 REAR INERTIAL SYSTEM
Enjoy BH's only indoor cycle with a rear flywheel and new sensations during training.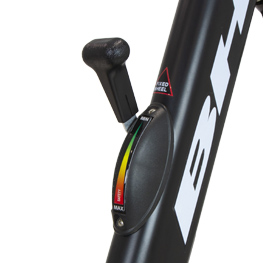 INTENSITY SELECTOR
Choose the intensity of your exercise: 8 levels and a precise selection of resistance.
MULTI-SETTINGS
Multi-position adjustments on both the saddle and the handlebar to train in the best posture.
Maximum recommended user weight
130KG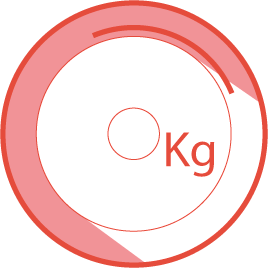 Flywheel
20KG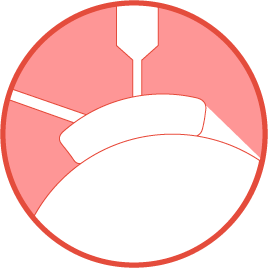 Brake type
FRICTION
RESISTANCE / TRANSMISSION
The BH RDX 1.1 features a 20kg flywheel to deliver truly smooth, smooth, yet effective peddling for a wide variety of workouts.
As mentioned above, the resistance system is fully adjustable through the lever located under the handlebar. This lever slides easily in different colour options that represent the increase in intensity, being these: green (low), yellow (intermediate) and red (high).
The Poly-V strap used in the transmission system aims to guarantee you a really quiet but effective model, thus allowing you to carry out any type of training with the bike at any time of the day without fear of waking or disturbing other people inside from the house. Plus, this strap will just help you focus on your workout without constantly having to maintain the machine afterwards.
CONSOLE
The console is developed with an LCD screen to reflect the following data during each
workout:
Calories burned.

Time.

Distance.

User speed when peddling (RPM).
| | |
| --- | --- |
| Frequency of use | Intensive |
| Maximum user weight | 130Kg |
| Flywheel (Kg) | 20kg |
| Brake system | Friction |
| Transmission | Poly-V strap |
| Steering wheel cover | Yes |
| Handlebar | Route |
| Saddle type | Prostatic |
| Handlebar adjustment | Horizontal and vertical |
| | |
| --- | --- |
| Saddle adjustment | Horizontal and vertical |
| Pedals | Toepipes |
| Bottle cages | - |
| Seat to pedal distance (max) | 98 cm |
| Transport wheels | Yes |
| Length (cm) | 142.5 |
| Width (cm) | 32 |
| Height (cm) | 130 |
| Weight | 47Kg |
| | |
| --- | --- |
| SKU | H9179 |
| Condition | New |
| Flywheel Mass (Kgs) | 20 Kgs |
| Chain or Belt Driven | Poly-V strap |
| Pedals Toe Clips / SPD | Toe Clips/ Optional SPD |
| Adjustable Handlebar Position | Yes |
| Adjustable Seat Position | Yes |
| Optional Monitor | Included |
| Warranty | 10 Years Frame, 2 Year Parts |
| Max User Weight | 150Kgs |
| Transport Wheels | Yes |
| Size L/W/H | Length (cm) 142.5 Width (cm) 32 Height (cm) 130 |
| Size (Boxed) L/W/H | |
| Product Weight | 47 Kgs |
Albert Tissank
I purchased this through Fitness Network for my wife for a solution during the lockdown! Its been a good addition to our gym.
---
Jill O'neill
Thank you to Basil and team, delivery was faster than advertised. My only regret was waiting for so long to buy it.
---